Table of Contents
What is Comstar IPTV?
Comstar is an IPTV service providing over 11,000 live TV channels and 9,000 VOD titles.
Comstar have been established for three years, so we thought we'd check them out and see how they compare to other popular services.
Comstar IPTV Features
Comstar offer 11,000 live channels, 9,000 VOD titles and provide their own free Android app.
Comstar advise they have 99.9% uptime, strengthened by deploying 117 load balancing servers, which should result in stable service regardless of how/where you're using the service.
Comstar offers a free 48 hour trial and provide 24/7 support.
Comstar IPTV Channels
The Comstar website doesn't list the channels provided, however, your favorite news, sports and premium channels will be included. An EPG is also included. Comstar offer a free 48 hour trial, so you can check out the service/channels.
Comstar IPTV Devices
All popular devices are supported by the Comstar service, including Apple TV, iOS (iPad, iPhone, etc), Android (Smartphone, Tablet, etc), OS (Windows, Linux, etc), Dreamlink (T1, T1+, etc), Android Box, Amazon Firestick, Roku, Smart TV's (LG, Samsung, …), Avov Tvonline (N, N2, N3 etc), VLC Player, Smart IPTV, GSE Smart IPTV, STB Emulator, Perfect Player, Best Player TV and Movies, Enigma, Mag Boxes (250, 254, etc).
It is worth mentioning that the Comstar website has comprehensive setup guides for many of the devices listed above.
Comstar IPTV Pricing
As with most services, the longer you commit to a plan, the cheaper the plan costs, but it is recommended to commit to no longer than 3 months at a time.
The Comstar pricing plans include 1 connection as standard. It is possible to increase the number of connections, but you have to contact Comstar support for a discount code (you have to purchase additional subscriptions for each extra device).
Comstar IPTV Payment Methods
Comstar payment methods include credit card, debit card and crypto. A 10% discount is offered when paying with crypto.
Comstar IPTV Support
The Comstar website has an extensive tutorial and FAQ section, covering the most common issues/scenarios and setup guides for numerous devices including how to install Comstar on a firestick.
Comstar also offer 24/7 support via their website ticketing system.
Comstar IPTV Screenshots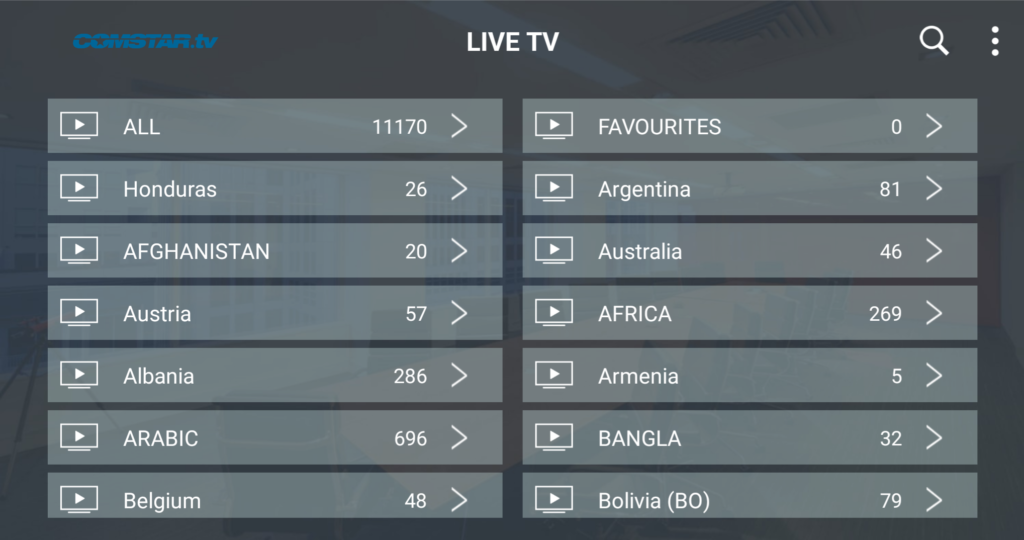 Comstar IPTV Conclusion
Comstar is certainly up there amongst the most capable and stable IPTV services.
All your favorite channels are available, plus TV and movies on demand.
Device support is wide-ranging with detailed setup guides and a free Android app, to get you up and running in no time at all.
Service activation is very quick as is support to deal with any queries. The website FAQ section covers most of the obvious inquiries.
Using the free 48 hour trial would certainly be beneficial to see how well the service works on your devices.