Table of Contents
What is iSwitchTV IPTV?
iSwitch TV is an IPTV service with 4,000 live TV channels, 37,000 movies and 1,000 TV shows, focusing on USA, Canada, UK and ES content, including all your favorite sports and entertainment channels. The pricing is attractive and four connections are provided as standard.
Let's take a further look at the iSwitchTV IPTV service.
iSwitchTV IPTV Features
iSwitchTV provides 4,000 channels from the USA, Canada, UK and ES including the usual sports, news, regional, live events and entertainment channels you would expect. PPV events are also broadcast.

In addition to the live TV channels, iSwitchTV serves a VOD library of 37,000 movies and 1,000 TV shows (tens of thousands of episodes). It's evident the VOD library is regularly updated.
Adult content is included (no additional fee) and includes live TV channels and on demand movies. It is possible to enable Parental Controls in the iSwitchTV apps if you so wish.
The outstanding USP of iSwitchTV is the incredible provision of four connections as standard with every subscription.
iSwitchTV provides its own apps, making setup quick and easy. All you have to do is enter your username and password, and you are up and running.
iSwitchTV IPTV Channels
Unlike most providers, iSwitchTV lists all the live TV categories it provides on its website, which gives you a good idea of what they offer before you take out a subscription.
iSwitchTV IPTV Devices
iSwitchTV works on Fire OS/TV/Stick, Android TV, Android Mobile/Tablet, Windows, and macOS. To simplify the setup process, iSwitchTV provides its own app and clear, easy-to-follow tutorials to assist with setup if necessary.

Note that M3U/portal links for other applications are not provided.
iSwitchTV IPTV Pricing
As with most services, plans become cheaper the longer you commit to them, but it is recommended to commit to no longer than three months at a time.
iSwitchTV offers 1-month, 3-month, 6-month, and 12-month packages.
Each subscription includes up to four connections as standard. Most services charge for additional connections, and few offer as many as four. So, including four connections as standard is excellent value.
iSwitchTV IPTV Payment Methods
You can purchase an iSwitch TV subscription with credit cards, debit cards, or Bitcoin.
iSwitchTV IPTV Support
iSwitchTV provides live support via Telegram. You can find their contact details in the welcome email you receive when you join the service.
iSwitchTV IPTV Screenshots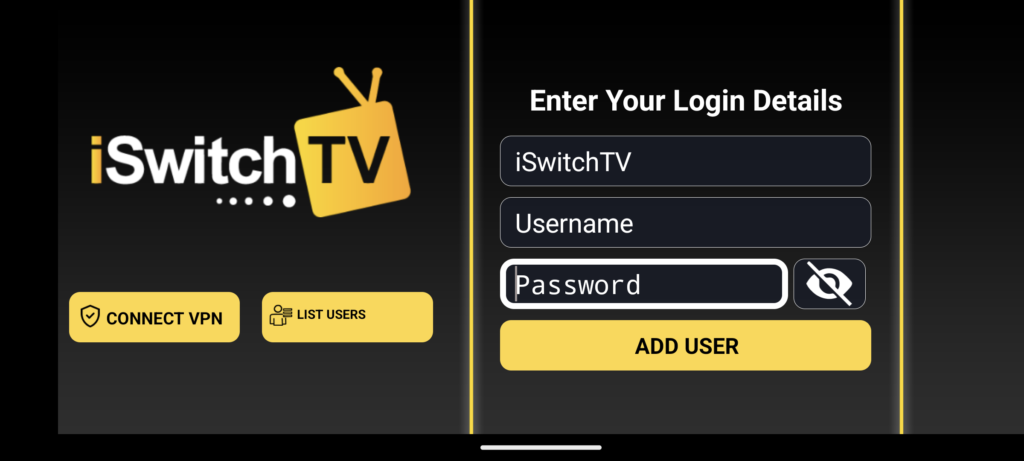 iSwitchTV IPTV Conclusion
iSwitch is clearly offering a product for a defined market: those who want core entertainment and sports channels in the USA, Canada, UK, and ES regions. In addition, you also receive up-to-date VOD content.
What is truly extraordinary, considering the cost, is the inclusion of four connections as standard (meaning you can use the service on four devices simultaneously). Normally, increasing the number of connections attracts an additional cost, which can mount up quickly over several months. Having four connections as standard is remarkable.
If you are in the regions targeted by iSwitchTV then this service will provide you with what you need at a low cost on numerous devices, with the option to pay using either credit or debit cards or Bitcoin. Click the link below to visit the iSwitchTV official website.