Table of Contents
What is Trendyscreen IPTV?
Trendystream IPTV describe themselves as the best IPTV service for a premium streaming experience. Their websites states they offer 20,000+ channels, of which some are in 4K. Plus, movies and TV series on-demand.
We signed up for a free trial anonymously and here are our findings of Trendyscreen IPTV.
Trendyscreen IPTV Features
Trendyscreen IPTV provides 22,000 channels from around the world, including your favorite entertainment, sports, news channels and PPV events. Video on demand (VOD) includes 12,500 movies and 23,500 TV show episodes.

Adult content is included at no additional fee. It includes live TV channels and on-demand movies. You can choose to include or exclude adult content when you purchase a subscription. It is not possible to add/remove adult content during a subscription.
Trendyscreen also offers a 7-day money-back refund, without requiring you to jump through hoops of troubleshooting issues or anything like that. If you decide the service isn't for you, you can simply get a refund within your first seven days.
And best of all, Trendyscreen offers free trials, so you can test the service on your devices before committing.
Trendyscreen IPTV Channels
The Trendyscreen website does not list the live TV channels available. However, you can expect the usual content provided by a global IPTV service provider offering 22,000 live tv channels.
Trendyscreen IPTV Devices
The Trendyscreen service works on Amazon Firestick / FireTV, Android devices, Apple devices, Smart TV (Samsung/Sony/LG), Roku, Mag Box, Enigma2 Box, Dreamlink, Openbox, Formuler and Windows.
Trendyscreen IPTV Pricing
As with most services, plans become cheaper the longer you commit to them, but it is recommended to commit to no longer than three months at a time.
Trendyscreen offers 1-month, 3-month, 6-month, 1-year, 2-year, 3-year, and lifetime packages.
Each subscription allows one connection. It is not possible to increase the number of connections per subscription.
Trendyscreen IPTV Payment Methods
You can purchase a Trendyscreen subscription with credit cards, debit cards, or cryptocurrencies including Bitcoin.
Trendyscreen IPTV Support
Trendyscreen provides live support via live chat on their website. You can also log a support request in the client area of the website. The Trendyscreen website states that their support is available 24/7. When we tested the Live Chat we received a response within two minutes.
Trendyscreen IPTV Screenshots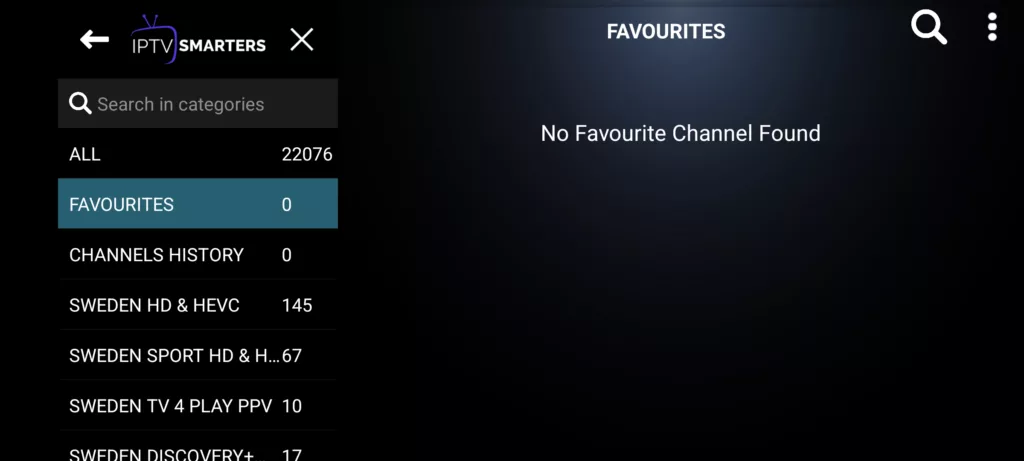 Trendyscreen IPTV Conclusion
Trendyscreen offers a huge number of live TV channels, a vast VOD library, and works on every device you will ever need to use. The channels are clearly grouped by country, and the VOD is also very well categorized, so you will be able to quickly find what you need despite the huge amount of content.
Being able to include or exclude adult content is a nice feature, but as we touched upon earlier in the review, once the subscription is underway, you can't add or remove this content. The majority of IPTV apps have the ability to enable Parental Control if that's something you require.
Trendyscreen does not provide any apps. This is not necessarily a negative. You are free to use any app/device that supports IPTV, as opposed to being locked into using a specific app, such as Smarters. However, if you have never configured an app before, the Trendyscreen website has a dedicated installation guide section, which is actually very well done.
If there is one slight drawback, it is that you cannot increase the number of connections from one. It really depends on your needs. If you only require one connection Trendyscreen could easily be your main IPTV provider. If you require more connections, then Trendyscreen would be a very good backup to your main provider.
Trendyscreen offers free trials, so you have nothing to lose by ordering one to determine how Trendyscreen IPTV works for you. Click the link below to visit the Trendyscreen official website.