Table of Contents
What is Necro IPTV?
The Necro IPTV mission statement is dedication to providing customers with the best viewing experience possible. Necro IPTV aim to achieve this by providing HD and UHD content in the form of 7,000 live TV channels plus PPV events.
Is Necro IPTV the the best viewing experience you can get? Let's take a look.
Necro IPTV Features
The Necro IPTV service uses the latest H264 technology, offering the best compression and quality. All of the 7,000 channels are HD and UHD. You will see other services offer 10,000 or 15,000 channels or more – but that will include SD channels. So 7,000 is a generous figure for quality HD and UHD content.
A full EPG is also offered and the service will also work if using a VPN.
Necro IPTV also offers the choice to add adult content (no additional fee). It's a nice touch this is optional, for the ultimate family friendly service.

Necro IPTV provide 24 hour trials, so you can try the service without committing to a longer period.
Necro IPTV Channels
A full list of every single live channel is available on the Necro IPTV website.
Necro IPTV Devices
Without a shadow of a doubt, Necro IPTV support all the devices you can think and a huge number of different software clients when it comes to delivering their service.
Necro IPTV state their service can run on a Smart TV, Computer, Mac, iPhone, iPad, Apple TV, Amazon Firestick, FireTV Cube, IPTV box, Android phones, Android Tablet, Android Boxes, BuzzTV, STB, Formuler, GSE, Smarters, Kodi, Perfect Player, Roku, TiviMate, the list goes on.
Necro IPTV Pricing
As with most services, the longer you commit to a plan, the cheaper the plan costs, but it is recommended to commit to no longer than 3 months at a time.
The Necro IPTV pricing plans come with 2 connections as standard. Adult content is optional and unlike some other providers, there is no cost to enable this content.

The prices are in GBP so the equivalent USD are as follows;
1 Month $12
3 Months $30
6 Months $56
12 Months $95
The 12 month subscription would be the equivalent of $8 per month.
Necro IPTV Payment Methods
Necro IPTV payment options are more flexible than some other providers, you can pay for subscriptions using PayPal, credit card and cryptocurrency.
Necro IPTV Support
The Necro IPTV website has a comprehensive setup guide and FAQ section (accessible via their client section). The extensive FAQ has a number of articles offering tips on how to tweak your setup for the ultimate performance. The setup guides include screenshots and step-by-step instructions, including how to install Necro IPTV on a Firestick.

However, should you need further assistance, there is a ticketing system accessible to all customers via their website.
Necro IPTV Screenshots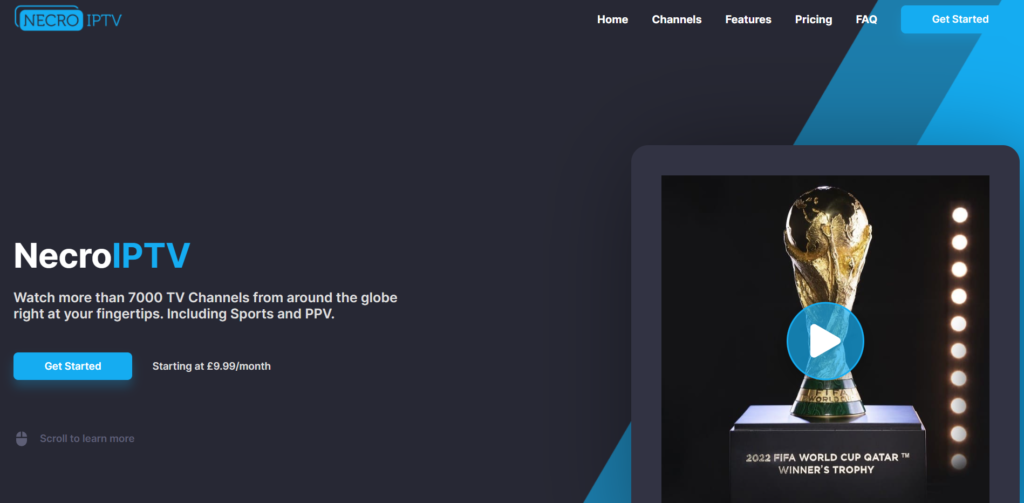 Necro IPTV Conclusion
It's clear Necro IPTV are dedicated to providing a quality live TV service, by offering only HD and UHD content and the core channels everyone wants to see. Not hundreds of obscure channels in SD that no-one will ever watch, that only adds to the burden of the service.
What is notable is the lack of VOD content, which may or may not be important to some users. It's clear Necro IPTV want to deliver quality live channels, which for some, may be more important when your favourite game is on.
The Necro IPTV website guides are comprehensive and covers everything you need to get up and running. By offering 2 connections as standard, the Necro IPTV service can be used by the family immediately, and, you're not restricted to using the service at home either.
Using the 24 hour trial option is highly recommended if you prefer quality over quantity.